Latin form of Greek
Μαρία
, from Hebrew
מִרְיָם
(see
Mary
).
Maria
is the usual form of the name in many European languages, as well as a secondary form in other languages such as English (where the common spelling is
Mary
). In some countries, for example Germany, Poland and Italy,
Maria
is occasionally used as a masculine middle name.This was the name of two ruling queens of Portugal. It was also borne by the Habsburg queen Maria Theresa (1717-1780), whose inheritance of the domains of her father, the Holy Roman emperor Charles VI, began the War of the Austrian Succession.
People think this name is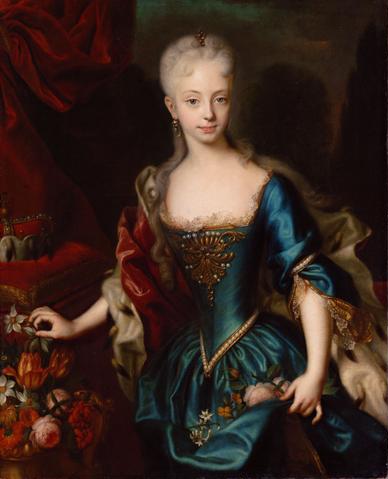 Portrait of Maria Theresa (1729)
2020's Grand Slam tennis players
,
American Horror Story characters
,
Attack on Titan characters
,
Baccano characters
,
BECK characters
,
Belgian royal family
,
Black Butler characters
,
Bond girls
,
Bully characters
,
Castlevania characters
,
celebrity babies
,
Code Geass characters
,
colleges or universities
,
Courage The Cowardly Dog characters
,
Cowboy Bebop characters
,
Desperate Housewives characters
,
Dharma and Greg characters
,
Dragon Quest characters
,
ends in -ria
,
Enya songs
,
Eureka Seven characters
,
Eurovision 2020
,
Filipino presidents
,
Fire Emblem characters
,
Frasier characters
,
Fullmetal Alchemist characters
,
German chancellors
,
Grand Theft Auto III characters
,
Gundam characters
,
Hamilton characters
,
Hamtaro characters
,
Hey Arnold characters
,
House of Cards US characters
,
human Sesame Street characters
,
Hunters characters
,
Italian Westerns
,
James Joyce characters
,
Jane Austen characters
,
Junior Eurovision Song Contest winners
,
Junketsu no Maria characters
,
Kennedy family
,
Latinizations
,
legend
,
Leo Tolstoy characters
,
Liechtenstein princely family
,
literature
,
Love Live characters
,
Luxembourgish grand-ducal family
,
Mars
,
martyrs
,
Marvel characters
,
mascots
,
Mayflower passengers
,
Megami Tensei characters
,
Michiko to Hatchin characters
,
Mother characters
,
mythology
,
never out of the US top 1000
,
Nijisanji EN members
,
Nintendo characters
,
nobility
,
Orthodox saints
,
paintings
,
Patti Smith songs
,
Polish presidents
,
princesses
,
queens
,
queens of England
,
queens of Scotland
,
queens regnant
,
R.E.M. lyrics
,
retired Atlantic hurricane names
,
Romanovs
,
Romeo and the Black Brothers characters
,
RWBY characters
,
saints
,
Shakespearean characters
,
Silent Hill characters
,
Sims 3 characters
,
song titles
,
Sonic the Hedgehog characters
,
Star Ocean characters
,
storms
,
Strike Witches characters
,
Sufjan Stevens songs
,
Tales characters
,
The Four Hundred members
,
The Golden Girls characters
,
The Kindaichi Case Files characters
,
The Loud House characters
,
Thomas Hardy characters
,
top 10 in Argentina
,
top 10 in Armenia
,
top 10 in Bolivia
,
top 10 in Brazil
,
top 10 in Bulgaria
,
top 10 in Catalonia
,
top 10 in Costa Rica
,
top 10 in Cuba
,
top 10 in Cyprus
,
top 10 in Ecuador
,
top 10 in Estonia
,
top 10 in Germany
,
top 10 in Greece
,
top 10 in Italy
,
top 10 in Malta
,
top 10 in Mexico
,
top 10 in Peru
,
top 10 in Poland
,
top 10 in Portugal
,
top 10 in Puerto Rico
,
top 10 in Romania
,
top 10 in South Africa
,
top 10 in Spain
,
top 10 in Sweden
,
top 10 in Tanzania
,
top 10 in the Philippines
,
top 10 in the World
,
top 100 Portugal
,
Total Drama characters
,
Two and a Half Men characters
,
Violet Evergarden characters
,
Virtua Tennis opponent characters
,
When They Cry characters
,
Wii Sports opponent Miis
,
Wii Sports series opponent Miis
,
WITCH characters
,
Xeno characters
,
YouTubers