Form of
Channah
(see
Hannah
) used in the Greek and Latin
Old Testament
. Many later Old Testament translations, including the English, use the
Hannah
spelling instead of
Anna
. The name appears briefly in the
New Testament
belonging to a prophetess who recognized
Jesus
as the Messiah. It was a popular name in the Byzantine Empire from an early date, and in the Middle Ages it became common among Western Christians due to veneration of
Saint
Anna (usually known as Saint Anne in English), the name traditionally assigned to the mother of the Virgin
Mary
.In England, this Latin form has been used alongside the vernacular forms
Ann
and
Anne
since the late Middle Ages.
Anna
is currently the most common of these spellings in all English-speaking countries (since the 1970s), however the biblical form
Hannah
is presently more popular than all three.The name was borne by several Russian royals, including an 18th-century empress of Russia. It is also the name of the main character in Leo Tolstoy's novel
Anna Karenina
(1877), about a married aristocrat who begins an ultimately tragic relationship with Count Vronsky.
People think this name is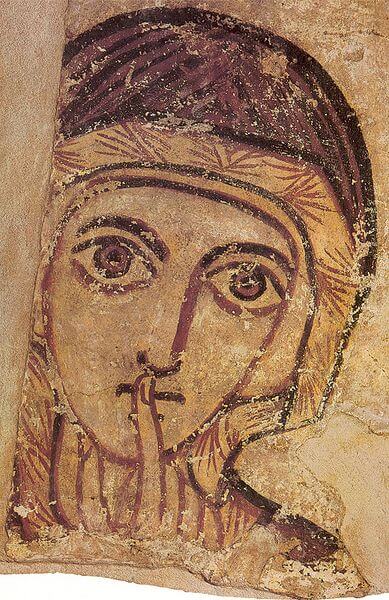 Depiction of Saint Anna (a.k.a. Anne) from the 8th century
2020's Grand Slam tennis players
,
angels
,
Anne Rice characters
,
Archive 81 characters
,
Aria characters
,
Armistead Maupin characters
,
Ashita no Nadja characters
,
Atelier characters
,
Beatles songs
,
biblical women
,
Black Clover characters
,
City Hunter characters
,
Code Geass characters
,
D. H. Lawrence characters
,
dancers
,
David Mitchell characters
,
Deadly Premonition characters
,
Derry Girls characters
,
Dharma and Greg characters
,
directors
,
Disney characters
,
Downton Abbey characters
,
Duggar family
,
Dune characters
,
Dutch royal family
,
empresses
,
ends in -anna
,
Euphoria characters
,
Eurovision 2019
,
Eurovision 2022
,
female US presidential candidates
,
fictional characters
,
Final Fantasy characters
,
Fire Emblem characters
,
first ladies of the USA
,
Fringe characters
,
Genshin Impact characters
,
grace
,
Grand Theft Auto IV characters
,
Jane Austen characters
,
Jane the Virgin characters
,
JESC names
,
Kaleido Star characters
,
Kingdom Hearts characters
,
legend
,
Leo Tolstoy characters
,
Mad Men characters
,
martyrs
,
Maud Hart Lovelace characters
,
Mega Man characters
,
Megami Tensei characters
,
Michael W Smith songs
,
models
,
mythology
,
never out of the US top 1000
,
Nintendo characters
,
Once Upon a Time characters
,
Orthodox saints
,
Outlast 2 characters
,
paintings
,
palindromes
,
Phantasy Star characters
,
Pokemon characters
,
Prince songs
,
princesses
,
queens
,
Ratched characters
,
rhythmic gymnasts
,
saints
,
sculptors
,
Sims 3 characters
,
Stephen King characters
,
Stranger Things characters
,
Strike Witches characters
,
Suikoden characters
,
Supernatural characters
,
Swedish royal family
,
Taboo characters
,
Tales characters
,
Tekken characters
,
The Four Hundred members
,
The Golden Girls characters
,
The Man Who Came to Dinner characters
,
The West Wing characters
,
Thomas Hardy characters
,
top 10 in Armenia
,
top 10 in Austria
,
top 10 in Cyprus
,
top 10 in Denmark
,
top 10 in Estonia
,
top 10 in Hungary
,
top 10 in Iceland
,
top 10 in Italy
,
top 10 in Latvia
,
top 10 in Malta
,
top 10 in Minsk
,
top 10 in Moscow
,
top 10 in Northern Ireland
,
top 10 in Norway
,
top 10 in Poland
,
top 10 in Poland - 1970s
,
top 10 in Russia
,
top 10 in Slovakia
,
top 10 in South Africa
,
top 10 in Sweden
,
top 10 in Switzerland
,
top 10 in Tanzania
,
top 10 in the Czech Republic
,
top 10 in the Netherlands
,
top 10 in the US
,
top 10 in the World
,
top 10 in Ukraine
,
Vampire Diaries characters
,
Virtua Tennis opponent characters
,
Wii Sports opponent Miis
,
Wii Sports series opponent Miis
,
WITCH characters
,
women's history
,
Xeno characters
,
YouTubers